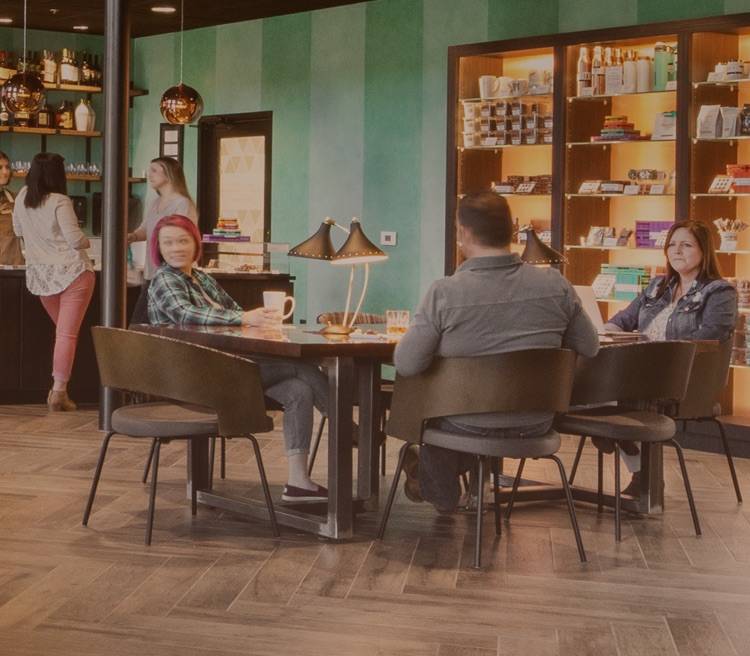 Our retail locations accommodate reservations either hourly, or per person. The differences are defined below.
Hourly Reservation Rate
Lounge reservations are accepted at an hourly rate of $450/hour (1-hour minimum. $225/half hour) before tax. After the $250 deposit fee has been paid, each dollar spent is applied to the remaining balance. Should the total price not be reached, the difference would be charged as a miscellaneous fee and cannot be used towards retail product. Any charges over the remaining balance will be charged as is. Guests to order off standard menu(s) or have a pre-selected menu for them to order f rom.
Per Person Reservation Rate
Guests can enjy a drinks and dessert tasting at a rate of $45/person per hour. A minimum of 10 guests is required (maximum of 25). Our team works with the host to select a 3-course tasting menu to include wine/beverages paired with desserts.
Available hours and max guests differ by location
Each location has specific hours and max guests in which they can accommodate reservations. Please review these below.
Bradley Fair
Monday – Saturday: before 10am
Sunday: before noon or after 7pm
(max guests: 40)
New Market Square
Standard business hours but open to the public for to-go orders + defined bench seating
(max guests 50 inside, additional 30 outside)
Downtown
Standard business hours but open to the public for to-go orders
(max guests: 50)
Black-out periods for all retail locations are December 7 – 27 and February 13 – 15 as well as any holiday Cocoa Dolce is closed.
Additional Information/Requirements
A $250 non-refundable deposit is required to reserve the date and lounge which will be applied to the total bill
A 3-week advance notice to schedule staff
Hourly Rate excludes gift cards, shipping, future orders, and retail product
Glitter, confetti, candles and tape are not allowed in our facility
Plates, napkins, silverware, serve ware and to-go containers are not provided by Cocoa Dolce for outside food
We cannot store outside food. Food must only be delivered immediately prior to event start time.
An 8-ft table and linen will be provided upon request for a $50 fee
An $18/bottle corkage fee will be implemented if outside beverages are to be served
Additional charges may apply